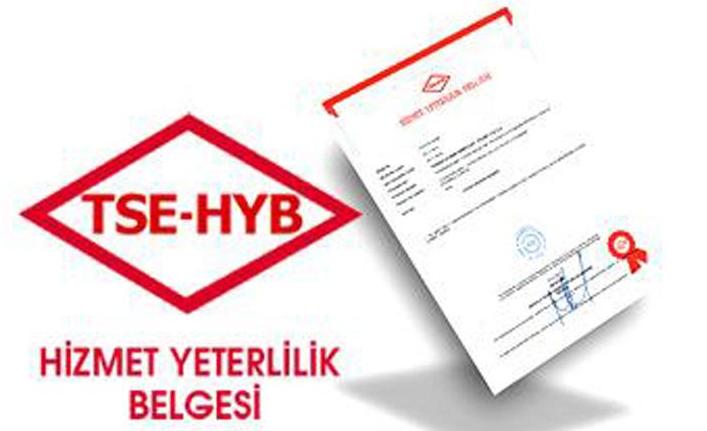 In order to renew our Service Qualification Certificate received from the Turkish Standards Institute on 28.05.2018, we have successfully completed the audit by providing that the services offered to the consumer by TSE auditors comply with the relevant Turkish Standards.
After the audit, we have been entitled to renew our Service Qualification Certificate on 25.04.2019.
What is HYB?
Service certification is the certification that the services offered to the consumer are in compliance with the relevant Turkish Standard or criteria.
In case of conformity, the certificate given to the organizations is the Service Sufficiency Certificate.
What are the benefits of HYB?
1. In some sectors, one of the procurement requirements is fulfilled.
2. All equipment in the workplace shall be covered by insurance.
3. All devices left by the customer for service are covered by insurance,
4. Ensures that the certificated organization's infrastructure is complete for the service written in the document,
5. Ensures that the service is delivered within a certain period of time and in accordance with certain rules,
6. The service provided can be monitored retrospectively,
7. The quality of the service provided increases,
8. Ensures the protection of the rights of the customer receiving the service,
9. Customer is protected against price,
10.To increase customer satisfaction,
11. Increases the number of customers of the service provider,
12. Ensures the safe execution of after-sales services related to the product,
Who Can Get Service Qualification Certificate?
* MANUFACTURING AND IMPORTING OF THE PRODUCTS WHICH ARE INCLUDING WARRANTY ACCORDING TO THE CONSUMER AND COMPETITION PROTECTION PROVISIONS numbered 4077;
White goods services, car services, computers, electronic goods services, etc.
* ORGANIZATIONS THAT MAKE AND PURCHASE PUBLIC SERVICES WITH THE TENDER;
Food, cleaning, security, landscaping, laundry, spraying etc. service providers
* ORGANIZATIONS WITH LEGAL OBLIGATION FOR SAFETY RISK TRANSPORT
LPG-CNG supply and conversion stations etc.
* THE QUALITY OF THE SERVICE IN THE SECTOR AGAINST THE CUSTOMERS OF THE SERVICE
Bakery, restaurant, photo studios etc.

Where and how to buy HYB?
Documents can only be obtained from the application form, which can be obtained from the lük application form ine or E online application TS section, which will be provided to TSE representative offices or regional offices at www.tse.org.tr.
Those who wish to obtain a Service Qualification Certificate may apply to the regional directorates or to the representatives of the TSE.